작성자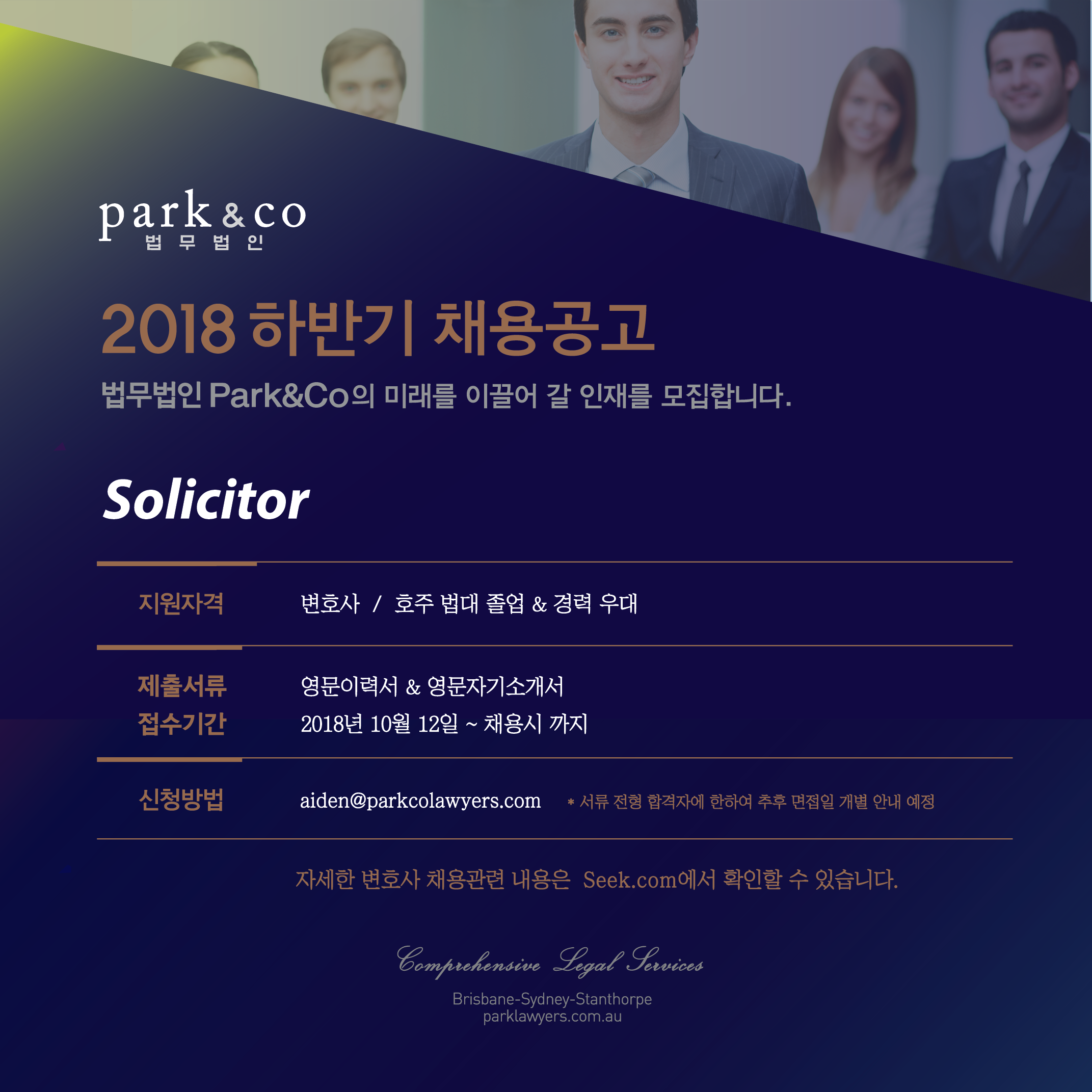 법무법인Park & Co의 미래를 이끌어 갈 인재를 모집합니다.
Park & Co Lawyers
 specialises in multiple fields of practice, ranging across compensation, immigration, civil and commercial law. Our team consists of highly qualified professionals and staff from diverse cultural backgrounds, such as China, South Korea, Vietnam, Taiwan, Malaysia and Australia. We are currently seeking Korean solicitor in our commercial team in Brisbane Office.
The Role:
- Providing comprehensive legal advice on a wide range of legal matters
- Preparation and management of matters associated with conveyancing and corporate & business law
- Preparing legal documentation
- Attending client meetings, court hearings and conferences
The successful candidate will be offered a diverse range of practices including but not limited to:
Business law


Insolvency and debt management


Real estate and property


Commercial leasing


The Requirements:
- Strong organisation skills and attention to detail
- Excellent written and verbal communication skills in English and Korean
- Ability to priorities tasks and manage deadlines
- Willingness to engage and be actively involved in matters
- Commitment to looking after clients
Benefits
- You will be directly mentored by Legal Practitioners who are highly experienced in the area of law
- The position will be provided with an excellent opportunity to develop your career with a generous salary package
Work Experience
- Available for Graduate Solicitor candidates
How to apply:
Please email your CV and cover letter to 
[email protected]
Please note that only shortlisted candidates will be contacted.
For more information about our firm, please visit our website parklawyers.com.au