2017 Recruitment - Paralegal & Receptionist
Author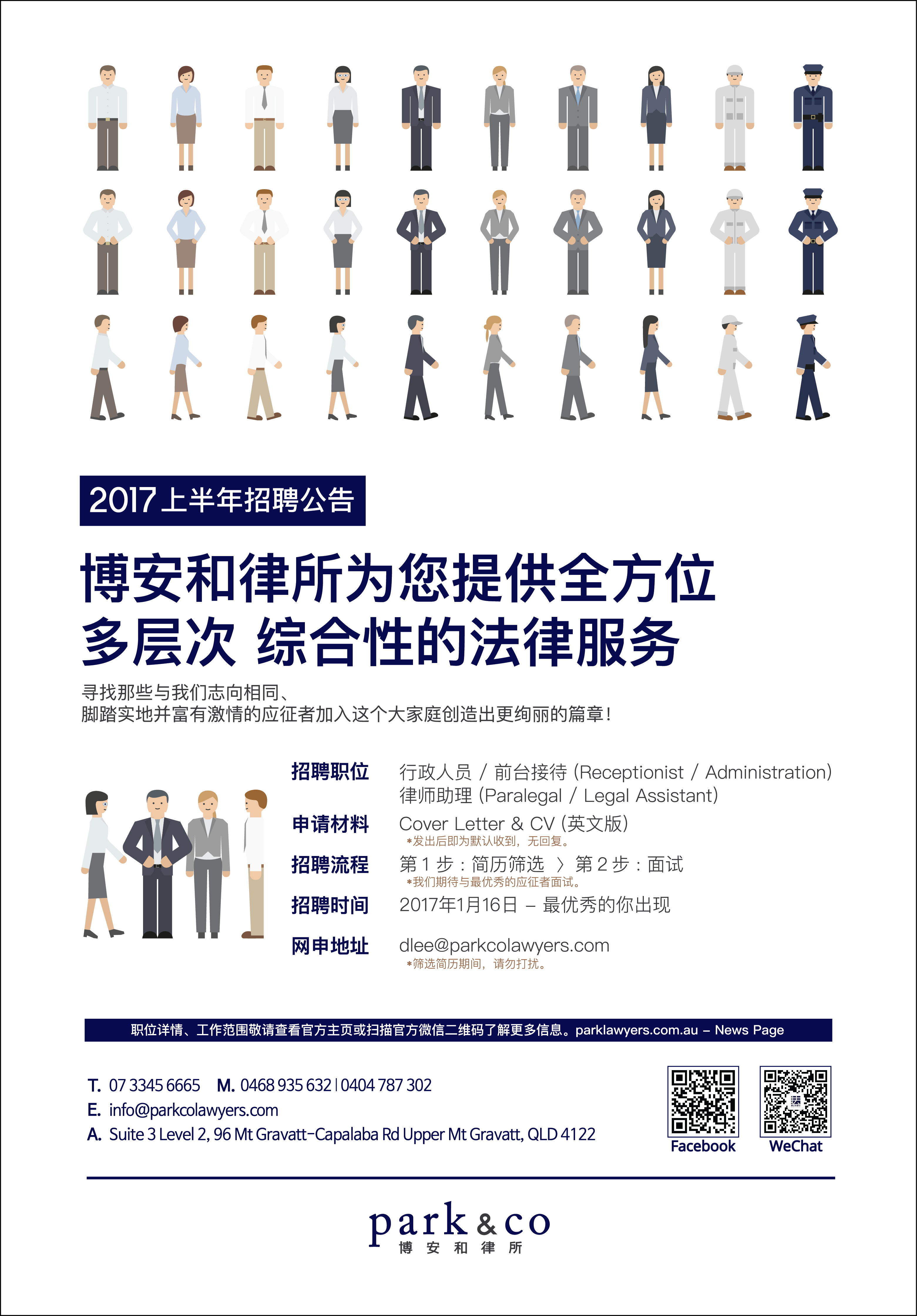 Park & Co Lawyers strives to offer legal services encompassing various areas of laws including personal injury, immigration and Commercial. Our legal team focuses on the comprehensive advice on each unique client's matter with expertise.
Join a strong team where individuals have a mutual respect for each other and work together effectively. We have a full time available for a Paralegal / Legal Assistant to assist our Chinese team of Solicitors.
Key Responsibilities
Paralegal / Legal Assistant
-Preparation of correspondence, legal documents and other relevant material
-Assisting solicitors with the day-to-day operations of files / client management
-Devising and implementing marketing plan and strategy to promote Chinese market
-File management
-General administration duties
Receptionist & Administration
-Presenting a professional image of the company to everyone who has contact with the reception area
-Preforming reception and general administrative duties and tasks in the most efficient manner
-Giving strong focus to answering all incoming calls promptly and professionally
-Assisting with preparation of accounting documentation
-Data entry with attention to detail
Required Skills:
-Excellent written and verbal communication skills in English and Chinese
-Strong organisation skills and attention to detail
-Efficiency with the use of Outlook, Word and Excel
-Ability to priorities tasks and manage deadlines
-Confidence in client interaction
-Willingness to engage and be actively involved in matters
-Commitment to looking after clients
We look forward to receiving your application by email at
[email protected]
*Please note that only successful applicants will be contacted.